Alexion to file successor to rare diseases drug Soliris
Shares in Alexion have soared after announcing it is preparing to file a successor to its rare diseases blockbuster Soliris.
Soliris (eculizumab), for a long time the world's most expensive drug, is the company's major revenue source, with sales approaching $3 billion a year despite the scarcity of eligible patients.
But this can't carry on forever, and several rivals are trying to develop cut-price biosimilars to market once its patent expires.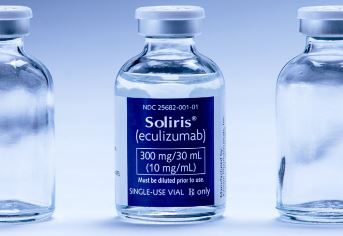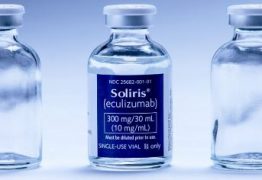 So Connecticut-based Alexion is trying to produce a successor that works in the same use – the life-threatening blood disorder paroxysmal nocturnal haemoglobinuria (PNH).
Akari Therapeutics also has intravenous Coversin in late-stage development for PNH patients with polymorphisms whose disease is resistant to Soliris.
Alexion is developing ALXN1210 administered intravenously in phase 3 for atypical haemolytic uremic syndrome (aHUS) – Soliris' other big-earning indication also targeted by Akari's competitor.
There are other potential competitors too – but earlier this month Roche and Chugai temporarily halted a trial of a potential rival because of unexpected side effects.
Alexion measured whether ALXN1210 is able to normalise levels of a protein lactacte dehydrogenase (LDH), and reduce need for transfusion using Soliris as a benchmark over an eight week period. LDH is elevated in PNH and causes damage to tissues.
The 246-patient trial also assessed quality of life based on a fatigue scale, the of patients with burst red blood cells, and the proportion of patients with stabilised haemoglobin levels.
Although the phase 3 trial was designed to show the new drug ALXN1210 is no worse than Soliris, Alexion also hoped to show that it was superior when measured against primary endpoints of transfusion avoidance and normalisation of LDH.
While the study showed ALXN1210 matched Soliris against the trial's two main goals, there was also showed a numerical difference in favour of the newer drug across primary and secondary endpoints, and the company hopes this will be enough for regulators to approve it in the coming months.
However ALXN1210 failed to show a statistical superiority to Soliris, but has a safety profile that Alexion says is an improvement. It now plans filings in the US, EU and Japan in the second half of this year.
Shares in Alexion jumped by as much as 8% following the news, before settling again.
Alexion is also developing a subcutaneous version of ALXN1210. Replacing an injected drug with an infusion can be enough to win over regulators, patients and doctors – Roche has used this strategy to extend the life of products such as blood cancer blockbuster rituximab.
Meanwhile, Alexion is still looking to expand uses of Soliris, and it recently gained FDA approval for use in Myasthemia gravis.
Don't miss your daily pharmaphorum news.
SUBSCRIBE free here.