Celgene gets set for stellar growth in Europe
Celgene's European leader Tuomo Pätsi talks to pharmaphorum about the firm's remarkable growth, which is set to continue thanks to myeloma blockbuster Revlimid and new psoriasis and psoriatic arthritis drug Otezla.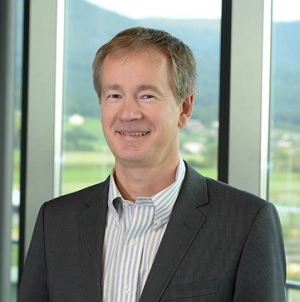 Tuomo Pätsi
Celgene has been one of the sector's most spectacular success stories of recent years, the mid-sized company achieving rapid year-on-year growth, thanks largely to its blood cancer blockbuster Revlimid (lenalidomide).
Global sales of the drug rose 16 per cent last year to $4.98 billion, accounting for approximately two-thirds of the company's total revenues.
The company, headquartered in Summit, New Jersey, is predicting even faster growth ahead: revenues are forecast to hit $9-9.5 billion in 2015, and then double to $20 billion by 2020.
Much of this exceptional growth is expected to come from Europe, a region where big pharma has become accustomed to sluggish returns.
Tuomo Pätsi, Celgene's president for the Europe, Middle East and Africa (EMEA) region says:
"We have a different lifecycle to many big pharma companies. We have a lot of growth ahead of us in Europe, rather than stagnating or shrinking like a lot of other pharma companies with different portfolios."
Speaking to pharmaphorum on a recent flying visit to London from Celgene's European HQ in Boudry, Switzerland, Pätsi laid out the company's plans for the next few years.
Three approvals in three months
The company has just gained a remarkable hat-trick of European regulatory green lights in the first three months of 2015 – a "truly exceptional" run of approvals which Pätsi says will help propel the company upwards for years to come.
The first approval is Otezla (apremilast), a new oral treatment for psoriasis and psoriatic arthritis, which gained EU marketing approval in January. The drug has got off to a flying start in the US market, and is tipped to hit global sales of $1.5-2 billion by 2017.
The second is for cancer treatment Abraxane (albumin bound paclitaxel) now cleared for use against non-small cell lung cancer (NSCLC). This adds to existing licences in breast cancer and pancreatic cancer, and these multiple indications should deliver peak sales of around $2 billion.
Lastly, the most significant approval is for Revlimid as a first-line treatment for multiple myeloma. This expanded use is likely to confirm it as standard of care for people with newly diagnosed disease not eligible for stem cell transplant – around two-thirds of patients.
This new, earlier, front-line use of Revlimid looks set to boost sales enormously, with global revenues expected to more than double by 2020.
Data from the pivotal FIRST trial shows that Revlimid combined with dexamethasone extends progression-free survival compared to the current standard melphalan-prednisone-thalidomide (MPT) treatment. Mature overall survival (OS) data in these patients is not yet available, but the study has demonstrated strong OS data with a median advantage of 10 months for continued Revlimid plus dexamethasone.
There is a simple reason why the new Revlimid approval will have a much bigger impact in Europe: US physicians have been using it as a first-line treatment 'off-label' for many years already, whereas Europe's doctors have been generally unable to use it this way without a licence.
Fragmented reimbursement talks
However gaining reimbursement for first-line use of Revlimid in Europe will require negotiation – Health Technology Assessment (HTA) agencies will be ready to push back on price, and question the current lack of overall survival data.
"Of course the next stage of opening the gates is the reimbursement discussions, which will take variable times in different countries," says Pätsi. "They're likely to be faster access in countries such as Germany, Austria and some Nordic countries. There are longer discussions with France, Italy and Spain. He adds that "in the UK… it depends," alluding to a reimbursement system in flux, with various different routes to market.
This patchwork of discussions will, of course, also apply to Otezla and Abraxane's new NSCLC indication. Asked if he wanted to see a pan-European reimbursement process introduced to eliminate this complexity, Pätsi said he supported current discussions, but said it still looked a long way off.
"I think it is on the horizon, but how to make it work, I don't know. You could compare it to the [creation of the centralised approval] EMA process – it took some time to arrive and now it works fine."
Pilot plans on pricing
Pätsi also revealed that the company is in discussions with European health systems for novel approaches to payment. The idea of deferred payment for high cost drugs – through mechanisms such as bonds or annuities have been raised in recent months – but he declined to disclose what approach Celgene might adopt.
"We are open to all of these ideas in principle, but of course the devil is in the detail. It doesn't have to be a future [deferred] payment for treatment – there are lots of different ways you can reward the innovation. It could be models such as payment per patient, or paying for outcomes. I think there is a willingness to look at it from the payer perspective as well.
"We are having some [pilot] discussions with different payers on these types of approaches, and there is a lot of openness from our side to look for solutions. Some of the problems relate to the unpredictability for the system, where something is not budgeted, so I guess that is where the idea of bonds or annuities comes in."
He says better horizon scanning and mechanisms such as the Pharmaceutical Price Regulation Scheme (PPRS) in the UK, which helps manage the budget for the healthcare system, also make a difference.
Waiting for NICE
Pätsi states "too much focus on these individual prices is not very productive," but health technology assessment (HTA) watchdogs in Europe are unlikely to see it that way.
That's because, while Revlimid's first-line use offers a step forward in improving myeloma treatment, it will come at a cost.
In the US, the drug costs around $128,666 for a year's treatment, making it one of the most expensive drugs in the world. In the UK, its price is significantly lower at around £52,000 ($76,660) for 12 months of treatment; nevertheless its cost has been challenged by the National Institute for Health and Care Excellence (NICE). In August last year Celgene broke a deadlock between it and NICE over Revlimid's use in another indication, myelodysplastic syndromes, when it offered to cap costs. The deal saw Celgene offer free treatment for patients who receive more than 26 monthly cycles – a discount it may have to repeat for the new indication.
Unfortunately, Celgene and myeloma patients have a long wait on their hands before NICE reviews Revlimid's first-line use: guidance is not due until April 2016.
In the meantime, patients in England could potentially gain access to the drug via the Cancer Drugs Fund, though the future of this market access route is in doubt.
The wait for NICE's appraisal of Otezla will be a little shorter, with a final decision for the psoriatic arthritis indication expected in August 2015 and for psoriasis in October 2015.
The outlook is worse for Abraxane, as NICE hasn't scheduled an appraisal of its use in NSCLC yet, and rejected its use in pancreatic cancer in January this year. However, Celgene has appealed the decision from NICE in relation to pancreatic cancer and expects the result of the appeal hearing imminently.
Despite the gloom around NICE's often slow and rejection-prone process, Pätsi is optimistic about Celgene's market access in the wider region: he says more than 80 per cent of patients in Europe have reimbursed access to its key medicines in their indications.
Growing big but staying lean
Appointed as head of the EMEA region last September, Pätsi points out that one of his top priorities is to help the business grow and develop, but retain its lean, 'entrepreneurial' character – something that all mid-sized companies say, but which remains a hard trick to pull off.
Key to this is the creation of separate business units: a new Inflammation & Immunology (I&I) business division has been created to serve Otezla, which will sit alongside the firm's existing Haematology and Oncology units.
This allows decision-making to stay sharp, he asserts. "You don't need 10,000 committees to make decisions, and people here are quite empowered. Also geographically, we are empowered to make decisions in Europe, and at the level of individual countries."
Pätsi says this supports the entrepreneurial spirit. "We're quite passionate about this – We look at big pharma to learn what not to do, just as much as what to do – sometimes that is even more important.
"Of course, as we grow, we need to take on the best aspects of bigger organisations, the processes that facilitate business – but to avoid process that complicates things, that frustrates people or makes decision-making very difficult for anyone to understand."
He says fostering trust in your team is important, and this in turn attracts people with the right mindset.
"The cultural fit [when hiring new recruits] is as important as, or even sometimes more important than, the technical skills."
Otezla launch
One of the first big tests for Celgene in Europe this year is the launch phase of Otezla, which was introduced to the market in February. The drug will help it diversify and reduce its reliance on Revlimid. But entering the hugely competitive I&I field is a big move for the firm.
The company is sure the oral treatment will gain rapid uptake in Europe as it has in the US. It has a number of things in its favour. Its oral formulation makes it easier to take than the injectable drugs. It is also is less expensive than the biologics, which allows it to be taken before existing biologic treatments such as AbbVie's Humira, all of which should give it a great chance of success.
To ensure this success, Celgene has taken on lots of new recruits in the division, including those with experience in other rival firms in I&I.
Pätsi concludes by saying that Celgene's European teams are keen to be part of a high-growth company, with all the challenges that brings.
"These people have been with all of the big pharma companies, but wanted to be part of this at Celgene, because they could see the space where Otezla fits in, and want to help grow something from the ground up," he explains.
The company will need to retain this energy when it hits the $20 billion revenue mark in 2020, which will edge it into the 'big pharma' league. The fast pace of change in all of these therapy areas – oncology, haematology and I&I – has shown that market leaders can get quickly overtaken by new entrants, requiring incumbents to think and act fast to keep ahead of the game.
About the author:
Andrew McConaghie is pharmaphorum's managing editor, feature media.
Contact Andrew at andrew@pharmaphorum.com and follow him on Twitter.
Read more from Andrew McConaghie: